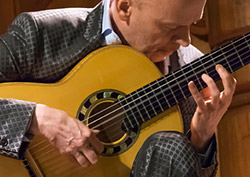 – »
This was poetry and passion both at the same time

«
– »

A stylist of extraordinary quality

«

 Klaus Jäckle performed for Herbert von Karajan, the Princess of Tonga and for example in the Berlin Philharmonie.

Klaus Jäckle lives freelancing from concertizing in Nürnberg, Germany. As a soloist and chamber musician in demand he has a large repertoire in all kind of stylistics. He performed with artists like Irena Grafenauer, flute, Tabea Zimmermann, viola, and the Gewandhaus Quartett, Leipzig.

By now he released more than 20 CDs, also actual high end qualitiy LPs, and numerous sheet music editions of his own transcriptions with various publishers, records regularly for the Bavarian public radio and get broadcasted in Austria and Slovenia and the USA.

Recently he succeeded with his Arrangement of Schuberts "Winterreise" together with Tilman Lichdi, tenor.

Klaus Jäckle studied at the "Mozarteum" in Salzburg and continued exclusively with Pepe Romero who described his performances a "Delightful experience". He invited him to tour with Los Romeros guitar quartet. Jäckle also stepped in successfully as soloist for Pepe Romero.

He was featured in masterclasses of Julian Bream, Eliot Fisk and Wolfgang Lendle.

 Prizes:
"Lilli-Lehmann-Medaille" from International Foundation Mozarteum in Salzburg, 1990
"Wolfram-von-Eschenbach Kulturförderpreis" from Government Mittelfranken, 1997
Prizewinner at International Guitarcompetition Plovdiv, Bulgaria, 1998
Förderpreis from Stiftung Studium Wissenschaft und Kunst, Nürnberg, 2007
Kulturförderpreis fron City of Nürnberg 2015

Venues:
Schleswig-Holstein Musik-Festival, Philharmonie Berlin
Konzerthaus Berlin, Gewandhaus Leipzig, Gasteig München, Meistersingerhalle Nürnberg, Mozarteum Salzburg, in Wien, Paris, Florenz, Prag, Austin, Sacramento, Los Angeles…
as well as on the ocean at MS Deutschland.